Currently viewing the tag: "firmware"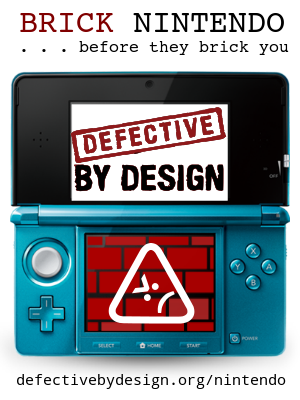 An anti-DRM action website targeted the 3DS a few weeks ago by writing parts of the Terms of Service (TOS) and End User License Agreement (EULA) that many usually don't read.  There are some interesting facts in there that should be taken into consideration… We also may share such information and any User Content you [...]
[Read Full]
A new system update for the hand-held Nintendo 3DS system will be available in North America the evening of June 6 Pacific time. By downloading the free update via a wireless broadband Internet connection, Nintendo 3DS users can enjoy new features and enhancements, including an Internet browser and access to the Nintendo eShop, where users [...]
[Read Full]
Last week at the Game Developers Conference in San Francisco Nintendo took the opportunity to showcase more of what we can expect from the new 3D Handheld Gaming console. Satoru Iwata, president of Nintendo, said that the 3DS is the most connected Nintendo device ever released. Netflix members will have the ability to stream movies [...]
[Read Full]
Yesterday was released the first firmware update for the just released console. In Japan, that is. Version number is 1.1.0-1J (could the J mean Japanese market?). What was translated from Japanese: General system stability improvement. SpotPass updates to notification list. Network functionality updates to fix some problems with hot spots. Addition of Music Live 3D [...]
[Read Full]
Some have said they are rushing the console on the market but it seems that Nintendo don't want to rush the digital store, so early adopters will have to wait for the 1st firmware due late May to browse the web and transfer some content from a previous DS (DSiWare titles).
[Read Full]