Currently viewing the tag: "piracy"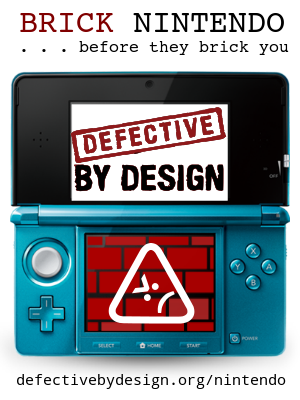 An anti-DRM action website targeted the 3DS a few weeks ago by writing parts of the Terms of Service (TOS) and End User License Agreement (EULA) that many usually don't read.  There are some interesting facts in there that should be taken into consideration… We also may share such information and any User Content you [...]
[Read Full]
I don't know if I should report rumors too or focus only on what's confirmed.  But let's go for a first one and see if it will open up discussions…  I came up with this interesting rumor reading here and there. I landed on the GoNintendo website and according to a mysterious person called Ruf: [...]
[Read Full]
Just hours after it has been released in Japan, websites r4idsn.com, acekard.com and cyclopsds.com all show a video that the 3DS have been hacked to play DS titles only.  If you are interested in the videos, they are all available on YouTube and as usual, all comes with many comments. One who posted a video [...]
[Read Full]
M. David Yarnton (UK general manager) recently said: The 3DS contains the most sophisticated anti-piracy technology of any console in Nintendo history. That's exactly what a hacker like to hear.  Let the game begin!  But for everyone else it means that they probably learned from the past and improved in this domain.
[Read Full]